Please raise your hand if you love Christmas trees.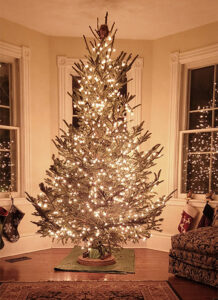 Ok, you can put it down now.  Noted. For all of you other Grinches out there, I will forgive you. 
Of course, you don't have to love Christmas trees.  Not everyone celebrates Christmas, but if you do for any reason put a tree in your house at Christmas or over the festive holidays, I'm with you.
We've just put up our tree.  Our house is old with high ceilings, so the tree as usual is over 9 feet high.  I love having a tree I have to look up to. Maybe it makes me feel like a kid again when all our trees seemed huge, but probably weren't.
The decorations aren't up, just the lights.  The look so magical that my wife and I wondered if we should leave it just like that this year.  But both of us know that won't happen. There are so many beautiful ones, they just need to go up. 
And they need to be drawn too.  
I know I posted about this before, but I think it's so important I want to say it again. Draw your tree!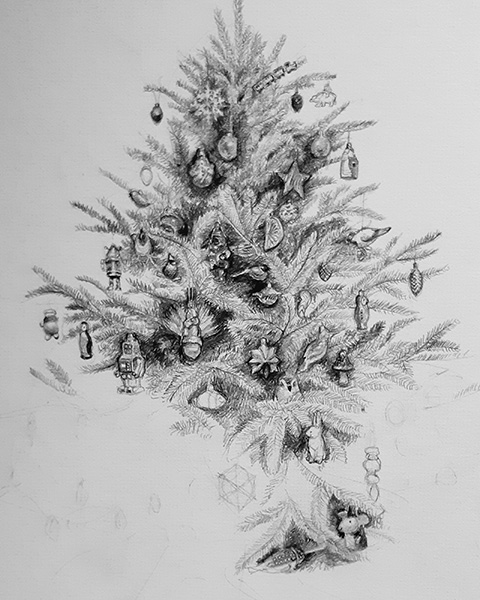 Over the years I've drawn the decorations in our house. Here are just some. There are many more. And more to be drawn this year.
A friend introduced us to baked dough figures.  They were fun to make and fun to paint.
Another friend gifted us these beautiful Mexican horse ornaments.
Garlands around the doors make for lovely decorations. 
As to our tree?  Every year there is someone who always gets the top!
Grab a pencil or pen or your iPad, and draw your tree. Draw your decorations, and draw Christmas at your house too!
And don't worry about how fancy your drawing is.  Anything is good because it will be a memory that will make that tree live on long after it's been put out for recycling as mulch.
Happy Christmas Drawing Everyone!